Installed as part of your central heating and cooling system, Aprilaire Air Cleaners can help give you the cleanest, healthiest air in every room of your home.
Home's today are being built or remodeled with more weather stripping, caulking, and insulation becoming both tighter and more energy efficient in the process.
The problem?
More contaminants are becoming trapped inside our homes. The air we breathe indoors can be loaded with pollutants like respirable dust, pet dander, dust mites, mold spores, bacteria, viruses, and more that aren't finding their way out through cracks or air leaks in the home.
With estimates that a typical person spends 90% of their time indoors and takes up to 20,000 breaths every day – you want to be breathing the cleanest air possible.
Check out our air cleaners below to learn more about the benefits and how they work.
Once we receive your information, a scheduler will reach out to you to schedule a time that meets your needs. If this is an emergency, please call us immediately!
Aprilaire Model 5000 Whole-House Air Cleaner with One Touch Control
Best for healthy homes: the Model 5000 Electronic Air Cleaner.
The Aprilaire Model 5000 Whole-Home Electronic Air Cleaner has been rated #1 three years running by a leading products rating magazine for some very good reasons: It electronically charges particles and traps them like a magnet better than any other air cleaner – using 72 square feet of Aprilaire-branded filtering media.
The Model 5000 is tried, true, and tested – delivering the highest efficiency possible.
Through patented technology, particles entering the air cleaner pass through a control electrode, which focuses and intensifies an electrical field generated by ionizing wires. The particles are charged in the electrical field and then collected on grounded micro-fiber media. There is no monthly cleaning of collector plates like with other types of electronic air cleaners, in fact, the Model 5000's media needs to be changed only once a year.
The benefits and results speak for themselves:
Traps 99% of airborne pollen, mold, and spore-sized particles
Eliminates 98% of airborne bacteria-sized particles
Removes 94% of respirable dust, dust which the EPA reports can trigger asthma
Captures 80% of airborne particles the size of tobacco smoke
Removes up to 80% of airborne virus-sized particles-something no other air cleaner in the industry can do!
Easy to maintain—the 5000 requires infrequent replacement of filtering media and wiping down of ionizing wires—a process that can be completed in less than 20 minutes
Unlike competitive electronic air cleaners, there is never a need for the frequent and time-consuming cleaning or washing of collector cells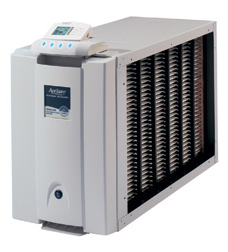 Aprilaire Model 4200/4300/4400 Whole-House Media Air Cleaner with One Touch Control
Aprilaire conducted research with homeowners just like you and discovered that when it came to air cleaners, active control and confidence were paramount. We developed the only visible whole-home Air Cleaner Control on the market.* Mounted in your living space or on the installed air cleaner, you'll feel confident in knowing that your air cleaner is working to keep every room in your home clean and comfortable.
If you want whole-home air cleaning that couldn't be easier the 4000 series with active control is the clear choice. These high-performance air cleaners with user-friendly allergen and irritant control right at your fingertips provide superior cleaning benefits and proven results.
Removes 97% of pollen, airborne dust, and other large particles
Permanently traps indoor allergens that can lead to respiratory problems
Visibility and control allows you to monitor and control the air cleaner function through the home from a single, central location
Simple maintenance just replace the filtering media once per year
All with the Touch of a Button
While other air cleaners are simply "on" or "off," Aprilaire gives you unprecedented control.
Is it allergy season? Are you having a party? Does someone in your family suffer from asthma? These are all factors that impact when and how often you might want the air in your home cleaned. That's why the Model 4000 Series Air Cleaner Control offers four different cleaning modes to put you in charge.
Constant Cleaning – Runs 24 hours a day, seven days a week. Perfect for homes with pets or individuals who suffer from year-round allergies or asthma.
Automatic – An every-day setting that removes mold spores, bacteria, allergens and even viruses from the air from 30 minutes every hour.
Event Clean – A great setting for parties or when visitors bring animals, smoke or other irritants in the home, Event Clean gives you a three-hour burst of cleaning.
Allergies – For those days when pollen counts are high, this setting runs for 24 hours straight, then turns off.
R and R Heating and Cooling can help you determine the right model for your home.
Two models of Aprilaire whole-home media air cleaner with active control are available for you to choose from depending on your furnace type. All models provide the same superior performance and come with a five-year limited warranty. And, because these models have no moving parts in the air cleaner, they produce no ozone and are virtually maintenance-free.
Model 4200: is easily adaptable to upflow or horizontal duct configurations
Model 4300: is perfect for split systems and smaller system installations
Model 4400: is compact, great for use with today's shorter furnaces in platform or closet installations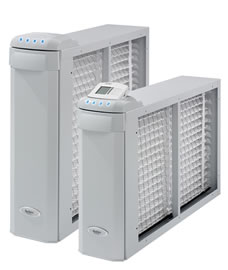 See What Our Customers are Saying
"I just wanted to say Thank You. The two technicians that came out to install my furnace were the nicest, most well-mannered young men. They were efficient and very knowledgeable."
— Katie Wilson
"Gary came to our house today to service our furnace. He thoroughly inspected and cleaned all parts, and gave us some much appreciated suggestions. We were given your company's phone number, and we will certainly pass it on!! We are very satisfied with excellent service and information from Gary!"
— Debbie May